Before decoding the diets for cholesterol you need to understand the chemical make-up of the cholesterol which is to be incorporated into your diets. There are predominantly three kinds of cholesterol; HDL(High-density Lipoprotein), LDL(Low-Density Lipoprotein), and VLDL ( Very Low-Density Lipoprotein). Now, HDLs are good for your health, they fall under the category of 'good cholesterol'. Whereas, LDLs and VLDLs are categorised under 'bad cholesterol'. Let me break it down for you with some examples you might be familiarised with: cheese, yogurt, egg yolk, quinoa, tofu, lentils, chickpeas, etc. do contain the good cholesterol quotient while the bad kinds are mainly composed in fried foods, and other processed fats.
So, that you gain a basic idea of which food items to inculcate in your diet and which ones to discard entirely.
Here are several recipes for Gujaratis both vegetarians and non-vegetarians.
1. Bajra, Green Moong Dal Khichadi
Formulated/Suggested By:
Preparation Time: Soaking (30-40 minutes), Cooking time (15 minutes)
Ingredients:
2 cups Bajra (Pearl Millets)
1 1/2 cup Green Moong Dal
2 chopped onions
Veggies of your choice and spices
Image Credits: Tarla Dalal
Steps:
1. Soak the bajra and moong dal separately or together as per your preference for about 20 minutes until its soft enough to be squished between your fingers.
2. Put ghee or clarified butter in a pressure cooker (because ghee allows better absorption of bajra).
3. Add onions to the heated ghee and stir fry, and add some vegetables like green peas or carrots and spices.
4. Add the bajra and moong dal to the mix and let it cook until the whistle strikes three to five times.
2. Moong Dal Suva Sabji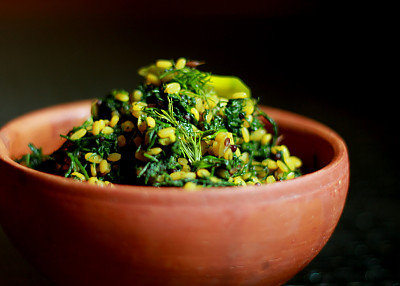 Formulated/Suggested By:
Preparation Time: Soaking (1 hour), Cooking time (15 minutes)
Ingredients:
1 cup yellow moong dal (soaked and drained)
1 1/2 cup dill leaves (suva leaves)
1/2 cup chopped tomatoes
1 teaspoon chopped chillies
2 teaspoon chopped garlic
1 teaspoon cumin seeds
Image Credits: archanaskitchen
Steps:
1. Heat up a large flat-pan and add olive oil in it. Add the chopped garlic and chillies and stir-fry.
2. Add yellow moong dal into the sauté and stir for a minute or two.
3. Add turmeric, and salt and let it cook for about 4-5 minutes with the lid on.
4. Add the dill leaves to the mixture and turn the flame to a medium while stirring occasionally.
5. Add the chopped tomatoes along with 1/2 cup water and let it cook for another 2 minutes.
3. Spicy Quinoa Rice (Upma Style)
Formulated/Suggested By:
Preparation Time: 10-15 minutes
Ingredients:
3-4 cups cooked quinoa
Frozen veggies as per need
2 fried eggs
Garlic and onions as per need
1 tablespoon toasted sesame oil
2-3 teaspoons soy sauce or tamari (glutten-free)
1/2 ground ginger
Steps:
1. Heat the oil and garlic in a large skillet on a medium-high flame, and stir until it exudes aroma.
2. Add quinoa and veggies and cook until they soften. Scramble the eggs into the mixture directly.
3. Pour soy sauce or tamari sauce and sprinkle with ginger and pepper and toss occasionally until cooked which would take a couple of minutes.
4. Lehsuni Matki Palak Tikki
Formulated/Suggested By:
Preparation Time: Cooking time (15 minutes)
Ingredients:
1 tablespoon finely chopped garlic
2 cups sprouted matki beans
1 cup shredded spinach (palak)
2 teaspoon lemon juice
2 teaspoon green chilli and ginger paste
3 teaspoon olive oil and other spices
Image Credits: Tarla Dalal
Steps:
1. Add 1 cup water and salt to a non-stick pan. Add the matki beans, let it cook on a medium-flame for about 8 minutes and cover it with a lid.
2. Now, remove the beans from the pan, let it cool for a while and them blend them until a coarse texture is achieved.
3. Add all the ingredients, the matki beans, blanched spinach and add the spices (salt, chilli and turmeric) accordingly.
4. Make a dough out of the mixture and cut out equal portions into a well-rounded tikki.
5. Grizzle some oil on the pan and let it be heated. Fry all the tikkis until a light-brown texture is seen.
6. Serve along with some green chutney.
5. Chicken Cauliflower Rice
Formulated/Suggested By:
Preparation Time: 20 minutes
Ingredients:
1 medium head cauliflower,
stalk removed;
3 teaspoon oil of your choice (preferably monounsaturated like olive oil or canola oil)
2-3 Eggs
3 minced garlic
1-inch ginger, peeled and grated Image Credits: Food Network
1/4 cup scallions(spring onions)
1 cup mixed peas and carrots, frozen but thawed
1/4 cups soy sauce(low-sodium)
2 tablespoons sesame oil
2 cooked chicken breasts, diced (skinless)
Steps:
1. Chunk the cauliflower removing the stalk, then pulse it in a mixer until it is reduced to rice like size and texture.
2. Heat up a pan or skillet, and add 1 teaspoon of olive oil. Add the eggs and scramble. Transfer the eggs to another plate.
3. Add the minced garlic and ginger, stir until rose-pink. Then, add the peas, carrots, scallions, and lastly the cauliflower. stir until the veggies are cooked which would take nearly about 5 minutes.
4. Add the soy sauce while the veggies are cooking and whisk them further with sesame oil.
5. Now, the chicken meat chunks which are cooked separately (roasted in a barbecue or heated in a microwave or a cooker with appropriate seasoning) is to be added into the mixture along with the cooked eggs Put the lead on to let it steam further until ready.